**The winner of a digital copy of DANGER ZONE by Dee J. Adams is Christina Lee! Congrats, Christina! Please contact me so I can get your book delivered to you!
Last weekend we did something I've been wanting to do forever. We hiked to the Hollywood sign.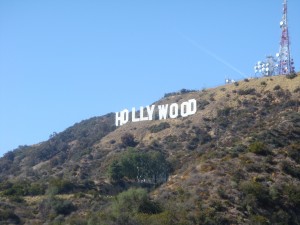 I know I said "to," but I guess I should have said "near," because that's as close as we got. There was another route we could have taken that would have gotten us a little closer, but I wanted the full frontal view rather than a side shot.
Turn around, and this is what we saw: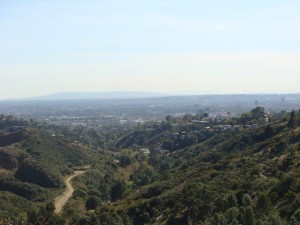 Pretty, huh? I want to go back and do it again. There were other paths we could take. One that led to the "Bat Cave" ~ the cave that Bruce Wayne drove out of in the 1960's TV show ~ and others that led to who knows where. The people on the trail were friendly, the smell of mustard plants filled the air (except for when we passed the huge clumps of horse manure), and even a reluctant Chick Magnet admitted he enjoyed it. (Score one for mom and dad!)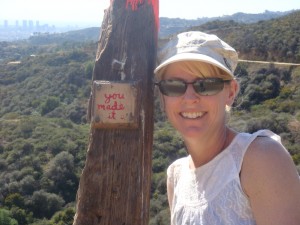 There are a ton of other hiking trails we'd like to do too, so our hope is to make this a more regular thing. Time away from the uh, computer, is a good thing. Have you been on any great hikes?
hugs,
Robin