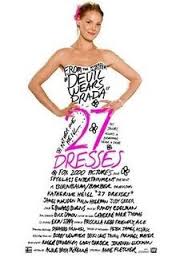 One of my favorite movies is 27 Dresses. Did you see it? Basically, it's about a girl – Tess – whose been a bridesmaid in twenty-seven weddings. Her sister is getting married next and Tess struggles with that for lots of reasons I'm not going to get into (but it's romantic and funny and you should definitely check it out if you haven't already), because what I really want to talk about is the dresses.
I've had the honor and privilege of being in seven weddings. In two of them I was the maid of honor and in five I was a bridesmaid. Lucky for me, all the dresses were beautiful. I do have a funny story, though. When I was pregnant with my first son, one of my best friend's got married. She picked out lovely short midnight blue dresses from a department store rather than a bridal shop, and so our sizing options were limited. Well, I was soon to become as big as a house, but at the time of the wedding I guess I was condo-size, and guess what? I couldn't fit into any of the available sizes comfortably. So… I bought two dresses in order to have the right material, and I had a seamstress make me one big dress. Can you say muumuu? Ha! I was happy to do it, though. Just not so happy to look like a blueberry.
In my next book, KISSING THE MAID OF HONOR, my bridesmaids wear pale pink strapless chiffon gowns with a sweetheart neckline. I can totally picture them and they're beautiful.
What about you? Have you been a bridesmaid or maid of honor? If you have, I'd love for you to send me a picture and tell me your story! (Email me at robinbielman AT gmail DOT com.) I'll post them here on my blog and/or on Facebook (if that's okay with you). If you're not comfortable doing that, that's okay. Leave me a comment and tell me about the dress. :)